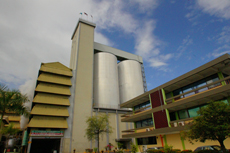 MSM operates the MSM Facility, a sugar refinery located in Prai, Penang, on the northwest coast of Peninsular Malaysia.
The MSM Facility is the largest sugar refinery in Malaysia and has an annual production capacity of 960,000 mt of refined sugar, representing approximately 86% of our total capacity.
In 2011, 79% of MSM's refined sugar products by volume were sold in the domestic market, while 16% were exported and 3% were sold as "local exports" to domestic industrial customers who use sugar purchased from us to manufacture products for export.
The MSM Facility is strategically located near Penang Port and has a dedicated jetty on-site that enables barges to easily and cost-effectively offload raw sugar taken from sea vessels directly into storage for use in our refining process.
Railway tracks located within the MSM Facility connect to our warehouses located in Sungai Buloh, Selangor, and Johor Bahru, Johor, allowing our products to be delivered in a cost-efficient manner to customers in the central and southern regions of Peninsular Malaysia. Products are also delivered from the MSM Facility and MSM's warehouses to our customers by lorries and other modes of transportation operated by MSM's subsidiary, Astakonas Sdn Bhd.
MSM also offers the option of bulk delivery from the Sungai Buloh facility via road tankers to customers who are able to receive the bulk sugar directly into their silos. A number of our customers also take delivery of our products by arranging their own transportation to take delivery from our warehouses located in Prai, Sungai Buloh and Johor Bahru. In addition, MSM's Sungai Buloh warehouse has its own packaging facilities, enabling us to package the products at various times and in various sizes according to our customers' needs. With this efficient warehousing, packaging and distribution network, we are able to offer just-in-time delivery and respond promptly to our customers' orders or sudden changes to their orders.
For East Malaysia and overseas exports other than Singapore, our products are sent from our dedicated on-site jetty through Penang Port as bagged bulk cargo. Alternatively, we can load our products in full container loads at MSM's loading facility, which has a 1,000 mt per day loading capacity, and send the containers to Penang Port.
Click
here for more information on MSM.