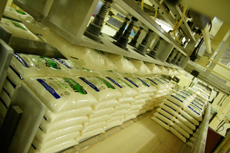 We sell a variety of sugar products, including granulated white sugar and brown sugar, to wholesale distributors who in turn sell those products to retail outlets, manufacturers, restaurants and institutional food service establishments in a variety of packaging sizes including sugar cubes, 5gm sachets and 1kg, 2kg, 25kg and 50kg bags.
Retail packages are marketed under the trade names "Gula Prai" and "Gula Perlis". Our products reach all regions in Peninsular Malaysia and East Malaysia.
We sold 602,110 mt and 170,700 mt of refined sugar products to distributors/retailers and industrial customers in Malaysia, respectively, in 2011.
We market and sell our products primarily in Malaysia. We also export our products typically when there is an excess in supply after domestic demand has been met. Our major markets outside of Malaysia include Australia, New Zealand, Pakistan, the Philippines, Singapore, Vietnam and Indonesia.
Our export sales typically account for approximately 5% to 15% of our total sales, depending on the level of domestic and global sugar demand.