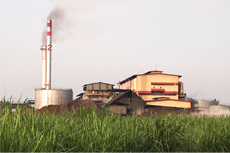 KGFP operates the KGFP Facility, an integrated sugar mill and refinery located in Chuping, Perlis in the northwestern part of Peninsular Malaysia.
In addition, KGFP grows sugar cane in Chuping, Perlis on the Chuping Plantation. The sugar mill has a sugar cane crushing capacity of 5,500 mt per day.
The KGFP Facility has an annual production capacity of 150,000 mt of refined sugar, representing approximately 14% of our total capacity.
In 2011, the KGFP Facility produced 135,993 mt of refined sugar. Currently, all of KGFP's refined sugar products are sold in the domestic market, and it expects to continue focusing on supplying the domestic market.
KGFP is currently planning to expand the sugar refining capacity of the KGFP Facility from 150,000 mt per year to 200,000 mt per year by 2015 through the installation of additional equipment, such as centrifuges, and increasing automation of its production processes.
Approximately 10% to 15% of the raw sugar used at the KGFP Facility to produce refined sugar is derived from sugar cane harvested at the Chuping Plantation. The remainder of the raw sugar used at the KGFP Facility is imported.
The KGFP Facility has warehouse facilities on site, as well as a bulk cargo terminal at Prai, Penang, from which its products are transported throughout Malaysia via road and sea. A number of our customers also take delivery of our products directly from our warehouse located in the KGFP Facility and from our bulk cargo terminal via bulk tankers.
Click
here for more information on KGFP.